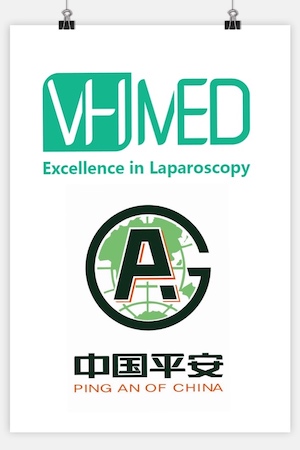 VHMED renews the product liability insurance contract today with Ping An Property & Casualty Insurance Company. The insurance contract ensures all VHMED's laparoscopic and surgical product sold globally to cover any possible damage to the users and the patients incurred by any adverse event.
About VHMED
VHMED is exclusively focusing on the development and manufacturing of medical devices for minimal invasive applications. We are equally committed to improve the quality of care and reduce the spending of global healthcare systems. We achieve this by investing in the in-house design and engineering capabilities, state-of-the-art, end-to-end manufacturing facilities by translating the clinical expertise to trusted laparoscopic tools, therefore meeting our customers' demand in innovation, cost and clinical support.
About Ping An
Ping An ranked 1st among global insurance groups and joined top ten of global financial groups as its market cap rose above RMB1 trillion to new highs. Ping An ranked 1st by brand value among global insurers on multiple international rating lists. Ping An ranked 39th in Fortune's Global 500 and 16th in Forbes Global 2000, maintaining the 1st place among Chinese insurers.